Posts for: May, 2021
By Enrique C. Escofet, DDS
May 13, 2021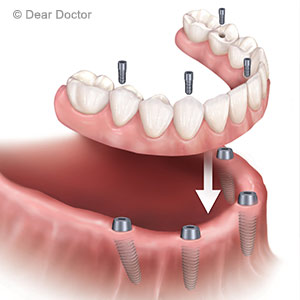 You may be familiar with a dental implant used to replace a single tooth — but implant technology can do much more. Implants can also support other restorations including total teeth replacement on a jaw.
The reason they're so versatile is because implants replace the tooth root as well as the visible crown. We use a metal post, usually made of titanium, which we surgically implant in the jawbone as a root substitute. Because of a special affinity with titanium, bone around the implant grows and adheres to it and creates a durable bond.
With a single tooth replacement (the implant's original purpose when they were introduced in the 1980s) we attach a life-like porcelain crown to the individual titanium post. But with their continuing development we've adapted implants for other applications, like using a few strategically-placed implants as a stable platform for removable dentures or fixed bridges.
We're now able to use implants to support a full prosthetic (false) dental arch. Though similar in appearance to a removable denture, this particular prosthesis is permanently joined to the supporting implants with retaining screws.
Of course, the application requires careful pre-planning, which includes making sure you have enough healthy bone to support the implants. We'll also need to determine how many implants you'll need (usually four to six for this application) and create a surgical guide to place them in the best location for supporting the prosthesis. A dental technician will then create the prosthesis to match your jaw ridge contours and facial structure.
Using implants this way has a benefit other types of restorations can't provide: they may help stop future bone loss. The jawbone life cycle depends on stimulation from the attached tooth as you bite and chew — stimulation that ends when you lose the tooth. Traditional dentures and other restorations can't replicate that stimulation. Implants, on the other hand, directly encourage bone growth and can stop gradual bone loss.
If you need some form of total teeth replacement, consider one supported by implants. You may find they'll provide an excellent long-term solution to both function and appearance.
If you would like more information on the different applications for dental implants, please contact us or schedule an appointment for a consultation.
By Enrique C. Escofet, DDS
May 03, 2021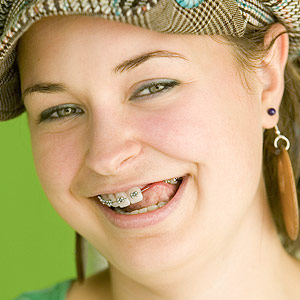 There are good reasons, for both health and appearance, to replace a missing tooth with a dental implant or similar restoration as soon as is practical. The bone around a tooth socket diminishes the longer it remains empty, up to 25% the first year. And, of course, your smile is less attractive, especially with a highly visible tooth.
If it's your teenager, though, you may need to wait on a permanent restoration because their jaws are still developing. An implant placed before completion of jaw development could eventually appear out of alignment with neighboring teeth.
Our biggest concern is protecting bone health at the site of the missing tooth. We can do this and encourage growth by placing bone grafts (processed minerals from another donor) that serve as scaffolds on which surrounding bone can grow. Grafts usually dissolve (resorb) over time, but the rate of resorption can be slowed for a younger patient in need of long-term bone growth.
Planned orthodontic treatment can usually go on as scheduled. The orthodontist may accommodate the tooth loss by adding a temporary tooth within the braces or other device that matches the color and shape of the patient's natural teeth. The orthodontist will also take care to maintain the empty space for a future implant or other restoration.
A dental implant is considered the best option for a missing tooth, not only for its life-like appearance and durability, but also its ability to encourage bone maintenance. Timing, though, is essential for teenagers. As it grows, the upper jaw will tend to move forward and down. Natural teeth move with this growth; implants, though, are attached differently and won't move with the jawbone. While the other teeth around them move, the implants can appear to shrink back resulting in an unattractive smile appearance. So waiting until the jaw has finished growing is important.
For most people, jaw growth finishes by age twenty-one for men, women usually faster, but each person is different. The dentist's expertise and experience, coupled with comparisons of adult family members' facial appearances, will help determine the right time to undertake a permanent restoration for the best outcome both for health and a permanent, attractive smile.
If you would like more information on treating teenagers with missing teeth, please contact us to schedule an appointment for a consultation. You can also learn more about this topic by reading the Dear Doctor magazine article "Dental Implants for Teenagers."