Posts for tag: diabetes
By Enrique C. Escofet, DDS
April 03, 2021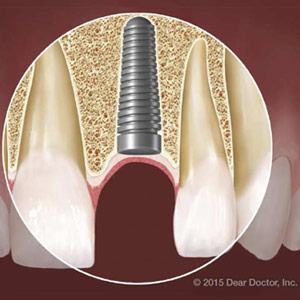 Today, dental implants are an increasingly popular option for replacing lost teeth — an issue faced by many older Americans. It's not hard to see why these high-tech prosthetic teeth are preferred: They look, "feel" and function just like natural teeth… and with proper care they can last the rest of your life. Unfortunately, many people who could benefit from implants also face an additional health problem: diabetes, a metabolic disease that can affect many different parts of the body, sometimes severely.  Uncontrolled diabetes can lead to nerve and tissue damage, and may adversely impact your oral health. So if you have diabetes, does it mean you won't be able to get dental implants? 
The short answer is no — but there are some considerations that diabetics (and their health care providers) need to keep in mind. For example, it has been demonstrated that wounds in diabetics tend to heal more slowly, and are more prone to infection than those in non-diabetics. Also, people with diabetes sometimes experience a chronic inflammatory response, which can eventually lead to tissue damage or other problems.
Because the placement of dental implants requires minor surgery, dentists and researchers have questioned whether people with diabetes are good candidates for implants. Now there's encouraging news: Several recent studies have come to the conclusion that many diabetics can indeed undergo an implant procedure without undue risk.
One key consideration is how well an individual can control his or her blood glucose levels. Researchers have found that diabetics with good blood glucose control, those with poor glucose control, and non-diabetics all have similar implant success rates (above 95%). However, in diabetics with poor glucose control, more time may be needed for the jawbone to heal in the area where the implant procedure was done. That doesn't by any means rule out the placement of a dental implant — but it does mean that special considerations apply to individuals in this situation.
So if you are considering an implant procedure but have trouble controlling your blood glucose levels, ask us how we can help. Just remember that in most cases, having diabetes doesn't mean you won't be able to enjoy the benefits of dental implants. If you have additional questions, contact us or schedule an appointment.
By Enrique C. Escofet, DDS
January 01, 2021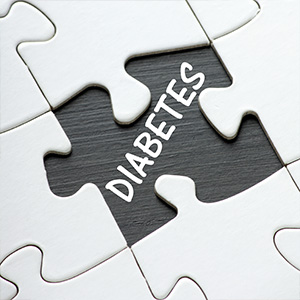 If you're one of the more than 26 million people in the U.S. with diabetes, you know first hand how the disease impacts your life. That includes your dental health — and whether or not implants are a good tooth replacement option for you.
Diabetes is actually the name for a group of diseases affecting how your body processes glucose, a simple sugar that provides energy for the body's cells. The level of glucose in the blood is regulated by insulin, a hormone produced in the pancreas. Diabetes causes the pancreas to either stop producing insulin (Type 1) or not produce enough (Type 2). Also in Type 2, the body can become unresponsive to the insulin produced.
The implications for either type are serious and can be life-threatening. If glucose levels are chronically too low or high the patient could eventually go blind, suffer nerve damage, or develop kidney disease. Diabetes also interferes with wound healing and creates a greater susceptibility for gangrene: diabetics thus have a higher risk for losing fingers, toes and limbs, and can even succumb to coma or death.
Type 2 is the most common form of diabetes. Fortunately, most people with this type can effectively manage it through diet, exercise and regular glucose monitoring; if need be, prescription medication can help regulate their levels. Even so, diabetics with their disease under control must still be alert to slower wound healing and a higher risk of infection.
Because implant placement is a minor surgical procedure, the aspects of diabetes related to healing, infection and inflammation could have an adverse impact on the ultimate success of the placement. Implant surgery creates a wound in the surrounding gum tissues and bone that will need to heal; the body's immune response in a diabetic can interfere with that process. And if infection sets in, the risks of implant failure increase.
But research has shown that diabetics with good glucose management have as high a success rate (over 95% after ten years) as non-diabetic patients. That means the implant option is a viable one for you as a diabetic — but only if you have your disease under control.
If you would like more information on the relationship between dental implants and other health conditions, please contact us or schedule an appointment for a consultation.
By Enrique C. Escofet, DDS
August 21, 2018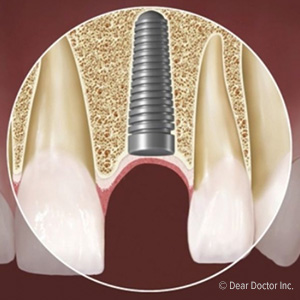 One of the best and most successful tooth replacement choices available is the dental implant. No other restorative method is as similar in both form and function to a real tooth as an implant; and with a success rate of 95-plus percent after ten years, it's one of the most durable.
But there can be extenuating circumstances that make obtaining an implant difficult or sometimes impossible. One possible problematic situation is the systemic disease diabetes.
Diabetes is a hormonal condition in which the body is unable to sufficiently regulate the amount of glucose (a basic sugar that provides energy to the body's cells) within the blood stream. Normally, the pancreas produces the hormone insulin to reduce excess glucose. But diabetes interferes with this insulin production: if you have Type 1 diabetes, the pancreas has stopped producing insulin altogether; if you have the more common Type 2, the body doesn't produce adequate insulin or it doesn't respond sufficiently to the insulin produced.
Over time diabetes can affect other areas of health, especially wound healing. Because the condition gradually causes blood vessels to narrow and stiffen, the normal inflammatory response to disease or trauma can become prolonged. This in turn slows the rate of wound healing.
Slow wound healing can have a bearing on the recovery period just after implant surgery, especially the necessary integration process that takes place between the bone and the titanium metal implant that provides its signature strength. If that process is impeded by slow wound healing caused by diabetes, the risk increases dramatically for implant failure.
That's the worst case scenario if you have diabetes, but only if your condition is out of control. If, however, you have your blood sugar levels well regulated through medication, diet and exercise, then your chances for implant success could easily be on par with someone without diabetes.
So if you're diabetic and are considering dental implants for missing teeth, it's important to discuss the possibility of obtaining them with both your dentist and the physician caring for your diabetes. With your overall healthcare team working together, there's no reason why diabetes should stop you from enjoying this premiere restoration for missing teeth.
If you would like more information on obtaining dental implants, please contact us or schedule an appointment for a consultation. You can also learn more about this topic by reading the Dear Doctor magazine article "Dental Implants & Diabetes."